October 22, 2022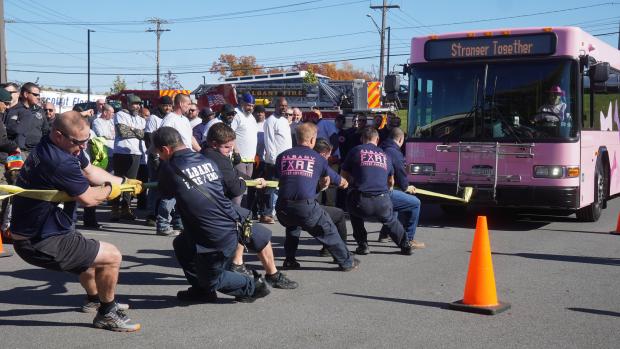 The Capital Region Community Pulls Together for Breast Cancer Awareness Month
ALBANY, NY (October 21, 2022) The Albany Fire Department has taken home the coveted pink bus trophy and bragging rights as the champions of the 6th annual CDTA Pink Bus Pull to support the American Cancer Society's Real Men Wear Pink campaign. Coming in second place, the Albany Department of General Services and rounding out the top three, the Colonie Police Department. More than $5,000 was raised at the event.
The Capital Region community came together for the 6th annual Pink Bus Pull on Friday, October 21 to help raise critical dollars in the fight to end breast cancer and support the Real Men Wear Pink campaign. Teams from CDTA, FBI, Albany County Executive's Office, Albany Police Department, Albany Fire Department, Albany Department of General Services, United Way of the Greater Capital Region, Siena College, Schenectady School District and more brought teams of 8 people together to test their strength and race the clock as they pulled a 30,000-pound pink bus 30 feet!
For the seventh year, CDTA is partnering with the American Cancer Society on its Real Men Wear Pink Campaign. As part of the initiative two pink buses are out on Capital Region Streets to raise awareness and support the campaign. Materials and decals to transform the pink buses were generously donated by NAPA Auto Parts, Lamar Advertising and Seifert Transit Graphics.
Last year, CDTA employees helped raised more than $10,000 for Real Men Wear Pink. Overall, the 2021 Capital Region Real Men Wear Pink campaign raised more than $440,000 and was the #3 ranked campaign in the country.