September 18, 2019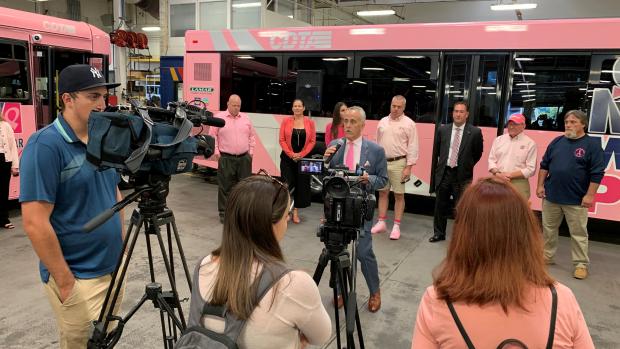 Pink Buses Roll Out on Streets for "Real Men Wear Pink" Until October 31st
ALBANY, NY (September 18, 2019) For the fourth year, CDTA is partnering with the American Cancer Society on its Real Men Wear Pink Campaign. As part of the initiative pink buses will be rolled out on Capital Region Streets to raise awareness and support the campaign.
"This is always an exciting time of year for us," said CDTA CEO Carm Basile. "The energy surrounding the roll out of our pink buses is immeasurable each year. This campaign not only raises critical dollars for the American Cancer Society, but it brings our entire workforce together, all working towards a common goal. It's great to see."
New this year, CDTA has painted a STAR bus pink. STAR is the Authority's paratransit service for people with disabilities. This new addition will help expand the reach of the campaign. All of the materials to transform the vehicles were generously donated by Lamar Advertising, NAPA Automotive Finishes, and Seifert Transit Graphics. The buses were painted by CDTA paint shop technicians.
Last year, CDTA employees helped raised around $16,000 for Real Men Wear Pink. Overall, the 2018 Capital Region Real Men Wear Pink campaign raised more than $260,000 ranking 2nd in the nation, after Cincinnati.