October 16, 2019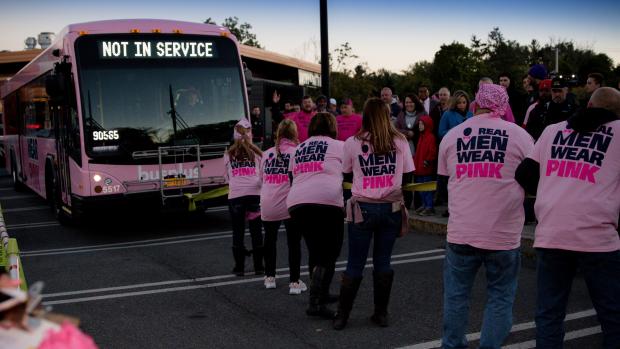 Pink Bus Pull to Benefit Real Men Wear Pink Campaign on Tuesday, October 29 at Crossgates Mall
ALBANY, NY (October 16, 2019) Get your teams together for this year's Real Men Wear Pink CDTA Bus Pull! It will take place on Tuesday, October 29, 2019 at Crossgates Mall beginning at 5 p.m.
Join CDTA and Crossgates Mall as the community comes together to pull the PINK CDTA Bus to help support the American Cancer Society's Real Men Wear Pink Campaign of the Capital Region. Teams of 8 are invited to pull the bus for a $100 donation. The team with the best pull time wins! The top three teams will be crowned at a fun and informal awards ceremony after the pull.
There will also be an opportunity to sign the pink bus, and purchase pink merchandise to show your support for the campaign. All of this taking place while our awesome DJ brings the energy and keeps it lively! Don't miss out on this fun community event to help support the Real Men Wear Pink Campaign of the Capital Region!
Please reach out to our Director of Corporate Communications Jaime Watson at jaimew@cdta.org with questions or if you need more information.