October 01, 2020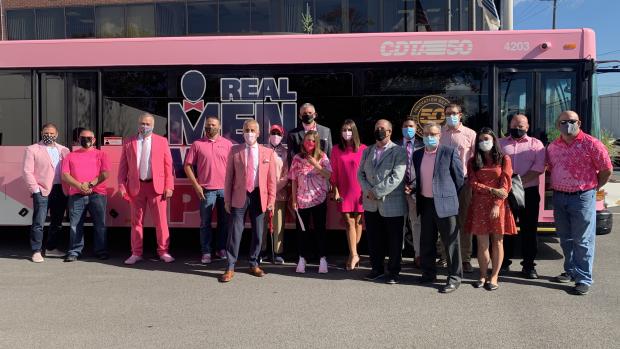 CDTA Pink Bus Rolls Out on Streets to help the American Cancer Society Paint the Town Pink
ALBANY, NY (October 1, 2020) The American Cancer Society has reimagined their pink fundraising because breast cancer hasn't stopped and neither has the American Cancer Society or their community partner's shared passion to end the disease.
CDTA and the American Cancer Society are teaming up for the fifth year in the fight against breast cancer and as part of this celebration, the iconic pink bus will be rolled out on Capital Region Streets to raise awareness and support.
"This is always an exciting time of year for us," said CDTA CEO Carm Basile. "The energy surrounding the roll out of our pink bus is immeasurable each year, even during a time when things look and feel a little different. This campaign not only raises critical dollars for the American Cancer Society, but it brings our entire workforce together, all working towards a common goal. It's great to see."
"Amazing community partners and support like this means more now than ever before."  said Lizzie Hunter, Senior Manager of Community Development for the American Cancer Society. "The pandemic has put our mission at risk. It will reduce our ability to fund cancer research by 50 percent in 2020 -- our lowest investment this century if current trends continue." 
The reality of the research funding crisis was underscored as we heard from an ACS funded Researcher, working right here in the Capital Region.  Dr. Jeremy Logue.  Dr. Jeremy Logue, Ph.D. received a $783,000 grant from ACS on September 1, 2020, to study the way cancer cells migrate to tissues. This is especially important as over 90% of cancer deaths are a result of cancer cells migrating from their origin.
Hunter stated, "The work that Dr. Logue is doing right here in the Capital Region is just 1 example of the progress we are making and why we can't stop. We are so very grateful to the Capital Region community that continues to stand with us in our fight cancer." 
 There is a way for everyone; men, women, old, young; even companies to get involved. More details below about each campaign & complete details are found at acscapitalregionevents.com/breastcancer 
 Real Men Wear Pink Realmenwearpinkacs.org/capitalregionny
This distinguished group of community leaders is determined to raise awareness and money to support the American Cancer Society's mission. Last year, the Capital Region's Real Men Wear Pink campaign raised over $370,000, securing the title of top Real Men Wear Pink fundraising campaign in the nation. Donations are needed this year to help the men retain their title in 2020. 
 Making Strides Against Breast Cancer www.makingstrideswalk.org/Albany    
Hybrid Making Strides Against Breast Cancer a socially distant event being held outside Albany Capital Center from 9am until 12 noon on Sunday, October 18.  
Stride Where You Are Walk any day and time in October that fits your schedule. Please be sure to tag us on social media @AlbanyStrides so we can see how you Stride. 
Virtual Event Tune into https://www.facebook.com/MakingStridesAlbanyNY at 11am on Sunday, October 18 to watch a virtual Making Strides Against Breast Cancer of Albany. 
Real Men Wear Pink Bus Pull https://www.cdta.org/sites/default/files/pdfs/rmwp_buspull_poster_2020.pdf
New this year! We are excited to partner with cityHUNT to bring all the fun, camaraderie, and celebration of Making Strides – from the comfort of your own neighborhood. Each Making Strides team that raises $500 will receive a free cityHUNT scavenger hunt experience – pinked out with fun clues encouraging you to solve trivia, take pictures, make videos and celebrate breast cancer survivors.
Real Kids Wear Pink www.realkidswearpink.org/northeast   
Join kids across the country in the fight against breast cancer 
 Paint the Town Pink  https://www.acscapitalregionevents.com/paintthetownpink/   
Companies & individuals are invited to "Glow pink!" with us any day this month by making a donation & wearing and/or glowing their business pink!  Companies can make a donation on behalf of their employees and/or can share the donation link for individuals to donate any dollar amount they would like 
More on CDTA & ACS
All of the materials to transform CDTA Bus were generously donated by Lamar Advertising, NAPA Automotive Finishes, and Seifert Transit Graphics. The buses were painted by CDTA paint shop technicians. Last year, CDTA employees helped raised over $8,000 for Real Men Wear Pink and more than 40,000 over the last five years.