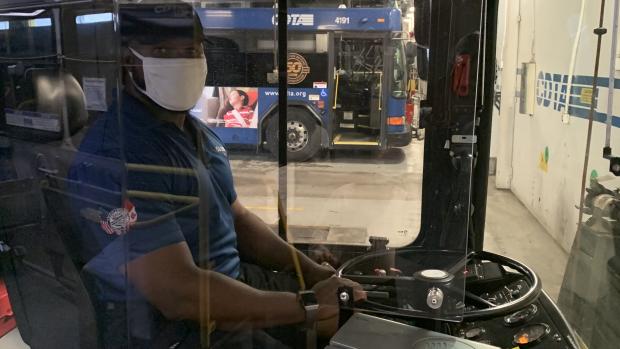 August 11, 2020
Safety Barriers Highlight Return to Regular Boarding Procedures on August 19
ALBANY, NY (August 11, 2020) CDTA will return to front door boarding and fare collection on Wednesday, August 19, 2020. CDTA has not collected fares since April 6 when rear door only boarding was implemented as part of CDTA's pandemic plan.
CDTA is taking an important step regarding the safety and security of bus operators and customers by installing protective barriers in the operator compartment on all buses. The barriers are designed to protect operators and improve the safety and security of the entire system. This equipment is used at transit systems throughout the country. The installation is being done in a phased approach across the fleet.
Cleaning protocols for the entire bus fleet have also been increased and formalized. This includes daily cleaning, disinfecting and a quarterly process using Stera-Mist. This hydrogen-peroxide based product kills bacteria and inactivates viruses on contact. CDTA is monitoring products and adjusting cleaning protocols as new information is provided and products are introduced.
Masks are required to ride on any CDTA bus. Governor Andrew M. Cuomo has issued an Executive Order that mandates any individual aged 2 or older who can medically tolerate wearing a face covering shall be required to cover their nose and mouth with a mask or close face-covering when in public and unable to maintain, or when not maintaining social distance. 
CDTA's Sales Center at 85 Watervliet Avenue will reopen on Wednesday, August 12. The Sales window is open Monday-Friday 9am to 5pm. Partner sales outlets will also be open to sell Navigator products. You can find the complete list of sales by clicking here.
CDTA introduced an updated service plan on July 12 that increased frequencies on trunk routes and geared the system up for people returning to work. Some trunk routes now have more frequency than pre-COVID levels as we work to ensure social distancing can occur.
At the beginning of April, average weekday ridership went from 55,000 to under 25,000. Boardings have slowly inched back to over 35,000 per day. The July additions are designed for 40,000 boardings as we anticipate people returning to work. Social distancing and the safety of bus operators are top priorities and are factored into ridership and capacity.
Updated service information and COVID-19 response can be found at www.cdta.org and our social media channels Facebook (@ridecdta), Twitter (@cdta), Instagram (@cdta), YouTube (CDTA).