April 21, 2023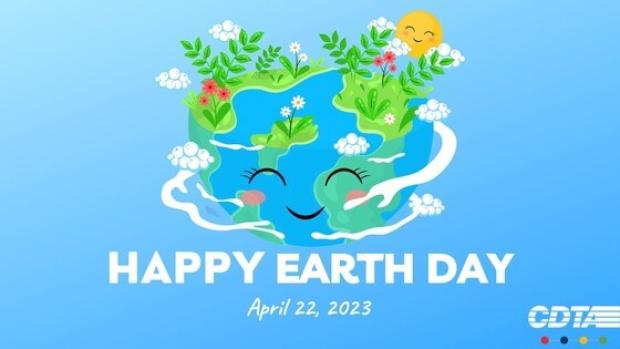 Earth Day Highlights CDTA's Efforts to Help Create Greener Communities
ALBANY, NY (April 21, 2023) The Capital District Transportation District (CDTA) is reminding the community this Earth Day about the many environmental benefits of using public transportation. By using CDTA services, commuters can reduce harmful emissions and cut their carbon footprint. It also helps people cut transportation costs. CDTA continues to work to create a greener and more sustainable Capital Region. Here are several ways you can green your commute on Earth Day and every day.
Electric Buses: CDTA now has 8 electric buses in its fleet. These buses meet CDTA's goals to reduce the region's carbon footprint. CDTA recently received federal funding and grants to not only expand its electric fleet but upgrade the charging infrastructure to charge the increasing number of buses.
FLEX: FLEX is a mobility option, operating in Colonie, Guilderland, and Southern Saratoga. It allows customers to use an app and request a ride, just like rideshare. Check out and save money on gas.
CDPHP Cycle!: CDTA and CDPHP will soon be launching Season 7 of CDPHP Cycle! We finished last season with record-breaking ridership, more than 80,000 rides were taken. Helping drive record-breaking ridership was new technology and expansion into new areas. For Season 7, we will be introducing electric bikes!
DRIVE: CDTA launched its carsharing service, DRIVE, in January. The service offers a network of zero-emission vehicles 24 hours a day, seven days a week to customers. People can book a DRIVE vehicle for just $5 per hour plus a one-time $20 application fee. There are currently six locations in Albany County where customers can pick up a car.
CDTA will also be providing an electric bus for the Saratoga Children's Museum at its Big Truck Day on Earth Day, April 22, 2023. The event is from 9 a.m., to 1 p.m. and is being held at the Spa State Park parking lots on Route 50 at the SPAC entrance. Come check out our electric bus!
For more information on CDTA's mobility menu, go to www.cdta.org