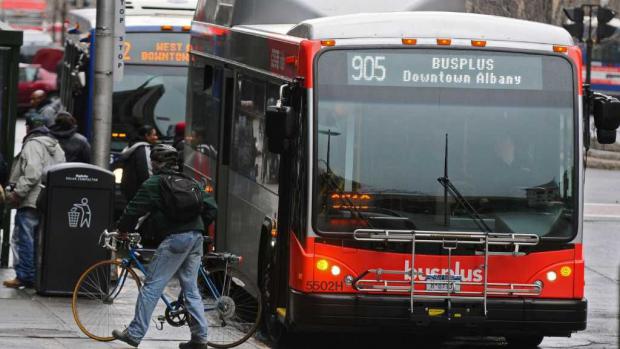 October 26, 2016
Latest Ridership Report Shows Numbers On The Rise
ALBANY, NY (October 26, 2016) The Capital District Transportation Authority (CDTA) announced at its monthly Board Meeting today service improvements and new partnerships continue to fuel ridership and system productivity. September ridership on all CDTA buses was up 4% after several months of small declines in total boardings. System ridership totaled 1.59 million, up from 1.53 million in September 2015. The increase is fueled by service improvements implemented in late August and a continued strengthening of Universal Access agreements with area employers.
"Our commitment to customers with more and better frequency on many of our trunk routes is a key reason ridership is trending upward," said Chairman of the Board David M. Stackrow. "The numbers show that people want more service and we are working to keep up with demand. In many cases, buses on trunk routes now arrive every 10-12 minutes, making service more reliable and easy to use.  It is good to see the changes are producing results, while making service more attractive to riders."
The service enhancements provided relief on some of the region's busiest routes that serve many of CDTA's Universal Access partners including area colleges, health care providers and retail companies.
Union College is the latest to jump on board, providing its students will full access to CDTA's route network. The college joins a growing number of area universities and businesses that provide unlimited access to CDTA services for their students and employees. Another program partner, Albany Medical Center joined in November 2015, offering unlimited service to its 9,000 employees. AMC ridership has increased consistently and now generates nearly 25,000 rides per month.
Universal Access agreements now generate more than 4 million boardings annually, or close to 25% of CDTA's total ridership.  CDTA ridership has increased nearly 25% from 13.8 million in 2009 to the current record-breaking total 17.1 million posted in FY2016.