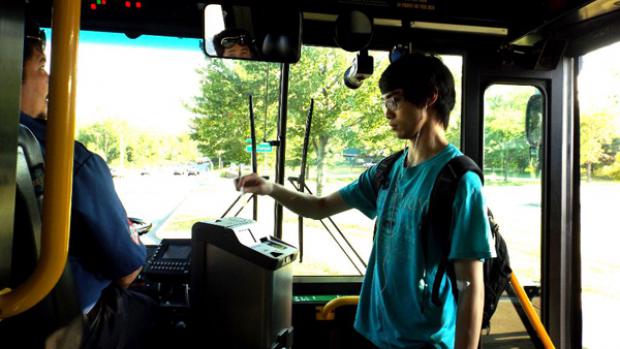 April 29, 2015
CDTA Posts Record Ridership for Second Straight Year
 
Authority Ridership Surpasses 17 Million, Eclipsing Year-Old Mark
ALBANY, N.Y. (April 29, 2015) The Capital District Transportation Authority (CDTA) announced today that it had a second consecutive year of record ridership. For the fiscal year ending March 31, 2015, CDTA's total boarding count increased by 3% to surpass 17 million (17,000,793) rides for the first time in its 45-year history. The announcement came at the monthly meeting of the CDTA Board of Directors.
"Our success can be traced back several years when we launched a concerted effort to increase ridership and improve our community image," said CDTA Board Chairman David M. Stackrow. "Thanks to the great work of our nearly 650 employees, we are better positioned today to provide the Capital Region with quality service and choices."
Ridership is up across the board on CDTA services, most notably on trunk and neighborhood routes. Overall CDTA has increased ridership by more than 3.2 million (23%) over the last 5 years. Roughly 25% of CDTA ridership now comes from Universal Access (UA) agreements negotiated with major employers and colleges for access to the entire route network. UA agreements generated more than 4 million boardings last year.
Another key driver is technology enhancements like the roll out of Real Time Passenger information last fall and a redesigned website has made riding easier and more convenient for customers. CDTA's Navigator smart card and mobile ticketing system is expected to go live later this year, offering balance protection, autoload and more convenient ways to pay. CDTA's Bus Rapid Transit service, BusPlus, that runs from downtown Albany to downtown Schenectady along Route 5 contributed to ridership gains and set the stage for future expansion.
In other News:
The full slate of officers for Fiscal Year 2016 were announced this afternoon including the return of Board Chair David M. Stackrow:
Chairperson – David M. Stackrow

Vice-Chairperson – Georgeanna N. Lussier

Secretary – Joseph M. Spairana, Jr.

Treasurer – Arthur F. Young, Jr.

The other members of the CDTA Board are Denise Figueroa who represents Albany County, Norman Miller who represents Schenectady County, Thomas Owens who represents Albany County; Lisa Ballout who represents Saratoga County and Corey Bixby who represents Labor.

The CDTA Board of Directors meets on the last Wednesday of every month at the CDTA Headquarters. Board meetings are open to the public and streamed live at www.cdta.org.