April 27, 2016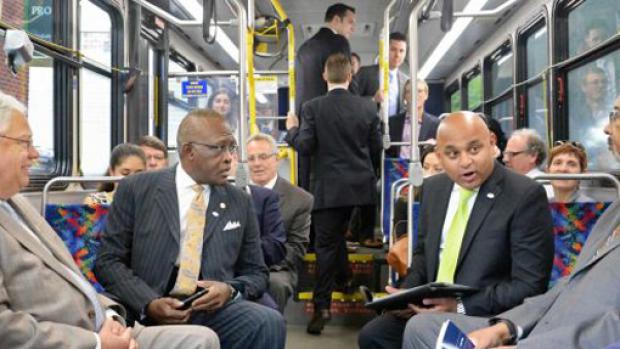 CDTA Posts Record Ridership for Third Straight Year
Authority Ridership Surpasses 17.1 Million for Fiscal Year 2016
ALBANY, N.Y. (April 27, 2016) The Capital District Transportation Authority (CDTA) announced today that it has broken its all-time ridership record once again. For the fiscal year ending March 31, 2016, CDTA's total boarding count increased by 1% to 17,106,322, marking the third consecutive year of record ridership.
"Our success is tied to the launch of a concerted effort to improve our community image, and to become a more active participant in the economic development process." said CDTA Board Chairman David M. Stackrow. "Thanks to the great work of our 650 employees, we are uniquely positioned to provide the Capital Region with quality services and a menu of mobility choices."
Ridership is up across the board of CDTA services, most notably on major trunk routes that carry the most riders. Overall, CDTA ridership has increased by nearly 25 % over the last 5 years from 13.8 million in 2009 to the new record-breaking total. The continued ridership increase is fueled by Universal Access (UA) agreements with major employers and colleges that provide convenient access to CDTA's entire route network. UA agreements now generate more than 4 million boardings annually or just shy of 25% of CDTA's total ridership.
Development activities throughout the Capital Region have added to transit's growing profile along with the desire among many to return to urban living. All of this has occurred while the price of gasoline is at 10 year lows. Technology improvements and the proliferation of mobile devices have made riding easier and more convenient than ever.
CDTA's Navigator smart card and mobile ticketing prepayment system will go live later this year, offering faster boardings, balance protection, autoload capability and more convenient ways to pay fares. Real Time Passenger Information and upgraded website capabilities have also played key factors in ridership growth. CDTA's focus on clean, modern equipment and facilities continues to be a highlight of efforts to improve the company's visibility and image.