September 08, 2020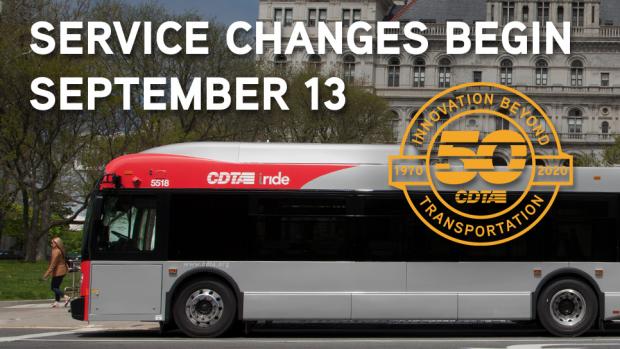 Changes Effective Sunday, September 13, 2020 
 

ALBANY, NY (September 8, 2020) - CDTA will make several service changes on Sunday, September 13, 2020 to add new routes and modify existing service. Over the last several months CDTA has implemented a number of safety measures to keep Operators and customers safe.
Protective barriers have been installed in the operator compartment on all buses. The barriers are designed to protect operators and improve the safety and security of the entire system. Cleaning protocols for the entire bus fleet have also been increased and formalized. This includes daily cleaning, disinfecting and a quarterly process using Stera-Mist. We remind customers that masks are required to ride on any CDTA bus per Governor Andrew M. Cuomo's Executive Order.
Service Enhancements:
Route #288 (RPI Uptown Shuttle) New service line operating between the East Campus Athletic Village and 6th Street via Peoples Avenue and Sage Avenue.  Service will operate weekdays only, between 7:00am and 7:00pm.
Route #452 (Skidmore College – Wilton Mall) Several trips will be extended from Downtown Saratoga Springs to Wilton Mall. Additionally, service on select trips will resume connections to Embury Apartments. 
Service Reductions / Eliminations:
Route #190 (Fuller Road – Wolf Road) Sunday Service is eliminated. Customers should consider CDTA's FLEX On Demand Transit service as an alternative.
Route #737 (Corporate Woods/Airport) Service will terminate at Albany International Airport. Service between the Airport and British-American Blvd will be eliminated.  Customers should consider CDTA's FLEX On Demand Transit service as an alternative.
Timing Adjustments: Trip start times will be modified starting on September 13th, please check schedules to verify arrival and departure times.
Route #286 (Troy/Wynantskill via RPI)
Route #289 (Griswold Heights)

Route #451 (Ballston Ave/West Saratoga)
July 12, 2020 SERVICE CHANGES