April 16, 2020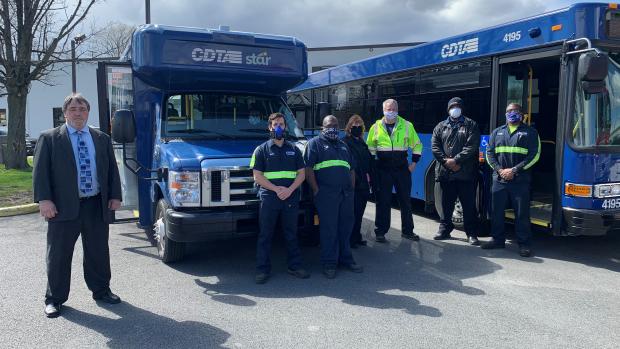 Buses Blast Horns to Honor Transportation Workers
ALBANY, NY (April 16, 2020) CDTA joined transit agencies across the country on Thursday, April 16 to honor transportation workers for their great work to provide essential services to keep communities connected. This action supports the #CDTAStrong campaign, which highlights the outstanding work of the entire CDTA workforce. CDTA was joined by the Albany Fire Deparment and Albany Mayor's Office to support our transit workers. 
As a tribute to #HeroesMovingHeroes on the front lines of this public health crisis, all CDTA buses gave two horn blasts at 3:00 p.m. The "Sound the Horn" campaign started in the New York City area and has gained traction throughout upstate New York and around the rest of the county. It will result in a coordinated, simultaneous sound from trains, bus and boat horns to honor all transportation workers.
Transportation workers are providing critical service for healthcare workers, first responders, childcare workers, grocery store employees and others who are performing critically, essential work during the COVID-19 pandemic.