April 26, 2017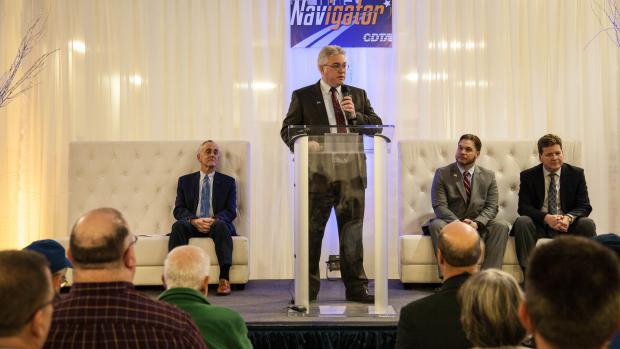 Year Ahead Includes Bike Share, Taxi Oversight & Better Access to Services
ALBANY, NY (April 26, 2017) The Capital District Transportation Authority (CDTA) announced that David M. Stackrow has been re-elected to serve as Chairman of the Board of Directors. Stackrow has been leading the wheel of change that has taken place at CDTA over the last several years, and continues to advance the company's profile as a regional mobility leader.
"We want to be a community resource, a valued partner and a component of the engine that drives economic prosperity," said CDTA Board Chairman David M. Stackrow. "The Board of Directors continuously looks for ways to grow ridership and revenue and to build on CDTA's solid foundation, which has transformed the Authority into the recognizable mobility leader for the people of the Capital Region. This includes advancing a regional bike sharing program, developing smart card and mobile payment opportunities, advancing service design efforts to make the system easier to use and developing the first Bus Rapid Transit lines in upstate New York."
The slate of officers for Fiscal Year 2017-2018, who were elected at the Authority's meeting this afternoon, includes:
Chairperson – David M. Stackrow
Vice-Chairperson – Georgeanna Nugent
Secretary – Joseph M. Spairana, Jr.
Treasurer – Arthur F. Young, Jr.
Stackrow was appointed to the board in 1995. In addition to his service at CDTA, he serves on several private sector boards and is active in community and civic groups. He lives in Poestenkill and represents Rensselaer County.
Under Stackrow's leadership, CDTA is introducing innovative mobility options throughout the region. The community will continue to see advances such as, CDPHP Cycle!, set to be introduced this summer, taxi oversight responsibility, ride sharing integration, Navigator payment options and new transit centers and amenities, which will elevate the transit experience for customers.
Georgeanna Nugent was re-elected Vice-Chairperson. She was appointed to the CDTA Board in 2009. Ms. Nugent is a Senior Project Manager at Foit-Albert Associates Architecture, Engineering and Surveying, P.C. in Albany. Nugent lives in Saratoga Springs and represents Saratoga County.
Arthur F. Young. Jr. was reelected Treasurer. Young has been a CDTA Board member since 1995. He is a retired officer of Key Bank. Mr. Young lives in Delmar and represents Albany County.
Joseph Spairana was re-elected Secretary. Mr. Spairana has been a member of the CDTA Board since December 2008. He is a retired Engineer in Charge from the New York State Department of Transportation with 35 years of service.  He lives in Wynantskill and represents Rensselaer County.
The other members of the CDTA Board include; Denise Figueroa who represents Albany County, Norman Miller who represents Schenectady County, Mark Schaeffer who represents Albany County, and Corey Bixby who represents Labor.