November 30, 2018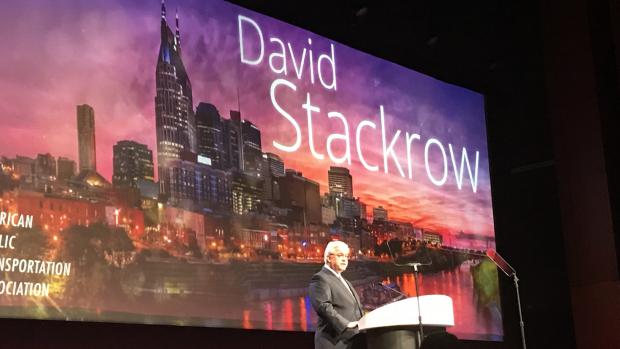 David M. Stackrow, Sr. to Serve as Chairman of APTA for 2018-2019
ALBANY, NY (September 27, 2018)The Capital District Transportation Authority (CDTA) Board member and former Board Chairman, David M. Stackrow, Sr. has been elected as Chairman of the American Public Transportation Association (APTA) Board of Directors. APTA is the national trade association for bus, rail, paratransit and other organizations that move people throughout North America. The association also includes companies that build and supply the necessary components to help member organizations operate safely and efficiently. In total, there are more than 1500 members of APTA.
"It's an honor to take on this role, and represent CDTA, the Capital Region and New York State at the national level," said David M. Stackrow, Sr., APTA Board Chairman. "We have done great things at CDTA to improve and advance mobility in our region. I'm excited to continue my role as a CDTA Board member, and to take on this new responsibility that will allow me a voice for public transportation systems and the work we are doing across this country."
Stackrow was appointed to the Capital District Transportation Authority (CDTA) Board in 1995, serving as Board Chair during three different terms. He has also served as Vice Chair and Secretary of the Board, as well as Chair of the Governance Committee.
"Dave is a proven leader with a track record of success during his tenure on the CDTA Board," said Georgie Nugent, CDTA Board Chairwoman."On behalf of the entire CDTA Board of Directors I want to congratulate Dave and wish him the very best as he starts his journey as APTA Chairman and continues to move public transportation forward on a national level."
"Congratulations to Dave on this exciting opportunity," said Carm Basile, CDTA Chief Executive Officer. Dave has been a dynamic leader for CDTA and a strong advocate for public transit. Under his leadership, CDTA has experienced record ridership, innovative new partnerships, and helped lead the Authority to being named a top transit system in North America. His prestigious position on a national board will allow him to work with industry leaders and advocate for necessary improvements and innovation to our transportation infrastructure. This is a great appointment for Dave, and for all of us in the transportation industry across New York State."
"APTA members unanimously elected Dave Stackrow as Chair of the APTA Board of Directors because of his leadership and his vision and passion for public transportation and the integral role it plays in communities throughout our country," said Paul P. Skoutelas, APTA President & CEO. "Dave has been a long-time active leader at APTA who has made significant contributions in advancing our industry and association. At this pivotal time for public transportation, APTA and the entire industry is greatly benefiting from Dave Stackrow's expertise, keen insights and leadership."
In 2010, Stackrow became an active member of APTA, elected to their Board in 2014, and elected to their Executive Committee in 2016. He is the past Chair of the Transit Board Member Committee and Audit Committee. Dave is also involved in other committees including Finance, Mid-Size Operations, Legislative, Human Resources, Member Services, and the Diversity Council. He has participated in several APTA task forces. In the Capital Region, Stackrow serves on a number of Boards and Civic groups.
Mr. Stackrow is Managing Partner of Scott, Stackrow & Co. CPAs, P.C.He's a graduate of La Salle Institute and Siena College. Dave is a lifelong resident of Rensselaer County who resides in Poestenkill with his wife, Karen (Rosenberger) Stackrow, and their two children, Michael and Kathryn.