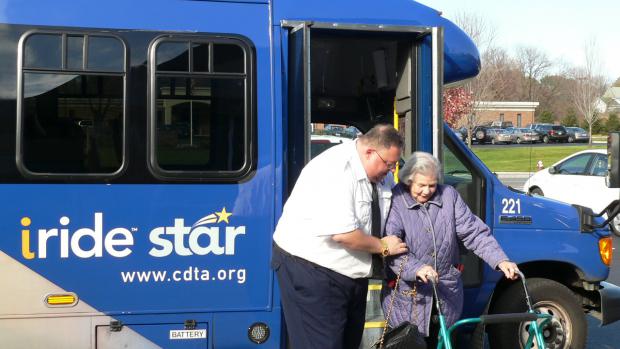 December 02, 2016
STAR Application Available Online For Faster and Easier Processing
ALBANY, NY (December 2, 2016) The Capital District Transportation Authority (CDTA) has made the process of applying for Special Transit Available by Request (STAR) service more accessible thanks to the launch of an online digital application.
"We're proud to be able to offer this service to our STAR customers," said David M. Stackrow CDTA Board Chairman. "Making this application process easier and more streamlined benefits everyone. In this 24-7 connected world, this technology is what people have come to expect and we want to deliver."
The online STAR Application is an easy and quick way to submit a new application or recertification. STAR is a paratransit service for people with disabilities who are not medically able to ride an accessible, fixed-route bus. STAR provides curb-to-curb transportation, on an advance reservation basis. The service is available in areas within ¾ of a mile of CDTA's entire 2300 square mile, fixed-route service network.
Customers can still download a copy of the STAR application to print, fill out and return to the STAR Customer Service Center. Those documents can be found on the STAR application page. For other STAR service inquires customers can contact the STAR office at 482-2022. Schedules and information are available upon request in large print, Braille and audio formats.
The digital STAR application can be found at: http://www.cdta.org/forms/star-application