August 31, 2021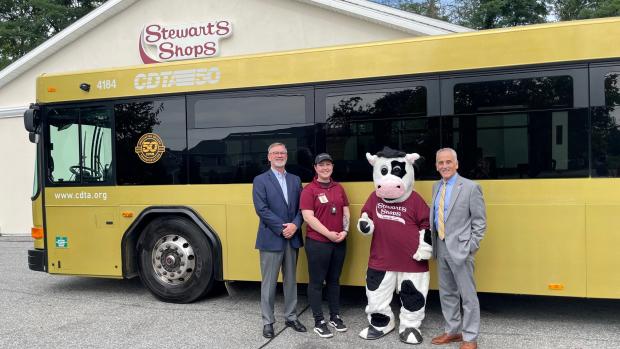 Stewart's Employees Gain Access to CDTA Route Network, Joining Many of the Region's Top Employers
ALBANY, NY (August 31, 2021) CDTA has partnered with Stewart's Shops to expand its growing Universal Access program. The partnership provides Stewart's employees unlimited access to the CDTA route network. The pilot program, which began in August, allows Stewart's employees to ride free of charge with just a swipe of their CDTA Navigator card.
"We are proud to welcome Stewart's Shops to our growing CDTA family," said CDTA CEO Carm Basile. "Universal Access lets tens of thousands of Capital Region employees, students, faculty and staff navigate to and from their designated destinations using everything that CDTA has to offer. Adding Stewart's Shops to this expanding roster further reinforces our dedication to providing local businesses with new opportunities and advantages that guarantee a positive impact within the community."
"Being able to offer our partners a reliable ride to and from work is yet another great benefit," said Stewart's Shops President Gary Dake. "CDTA's Universal Access will provide free transportation for our partners and will have a positive impact on the environment. This added benefit will not only help with staff retention, but also with future recruitment."
As CDTA's 50th Anniversary year concludes, the partnership expands on its initiative to encourage community development within the region as they continue to broaden their signature transportation services and programs.
To commemorate the occasion, CDTA will provide free hot coffee at select Stewart's Shops on Tuesday, August 31. The free coffee offer is available during the selected store's operating hours.
Select Stewart's Shops (providing free hot coffee):
875 New Scotland Avenue, Albany

110 Hoosick Street, Troy

120 Nott Terrace, Schenectady

87 West Avenue, Saratoga Springs
Stewart's is the 25th employer to join the CDTA Universal Access program.