December 18, 2014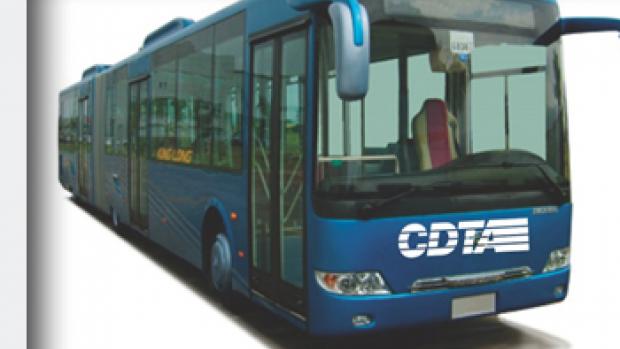 ALBANY, NY (December 17, 2014) The Capital District Transportation Authority (CDTA) Board of Directors approved the purchase of two articulated buses that are expected to be used on high volume routes and future Bus Rapid Transit (BRT) lines.
"The addition of articulated buses will help to relieve overcrowding we are seeing on many routes due to increased ridership," CDTA Board Chairman David M. Stackrow said. "It's also another innovative message to the community about the critical services we provide and a look into our vision for the future." 
The Board approved a five year contract with New Flyer of America Inc. with a value of nearly 1.7 million that includes the initial purchase of two buses, training, spare parts and diagnostic equipment. The total will be funded through the Federal Urbanized Area Formula Program (5307), which is used for transit capital and operating assistance.
Articulated buses will nearly double the capacity of a single vehicle, which is approximately 50 passengers, allowing for high volume routes to offer a better customer experience with less crowding. The initial purchase of two buses will allow CDTA to test their operation, assess maintenance needs and impacts on CDTA facilities. A regular purchasing cycle, that can include as many as 18 additional vehicles, will commence once all testing is completed and satisfactory.
CDTA first introduced articulated buses in April of 1984. The vehicles lasted nearly 10 years before being phased out due to the manufacturer closing down.
In Other News:
• CDTA boarding numbers continue to be positive with system-wide ridership at 1.47 million, 3 percent better than last November. The increased ridership is due in part to a better route network, good information about the system, and a fleet that is well maintained, clean and comfortable.
• The rollout of real time information, introduced back in October, continues to be very popular with customers.  We have had more than 700,000 real time hits, which is a use rate of more than 16,000 per day. Real time information is available on our free mobile application and through our website, telling customers when their bus will arrive, rather than when is it scheduled to arrive.
The CDTA Board of Directors meets on the last Wednesday of every month at the Rensselaer Rail Station. Board meetings are open to the public and streamed live at www.cdta.org
                                                                                                                     ###
ABOUT CDTA: The Capital District Transportation Authority (CDTA) was created in 1970 by the New York State Legislature as a public benefit corporation to provide regional transportation services by rail, bus, water and air. CDTA is the premier mobility provider in the Capital Region, providing local, express, commuter and bus rapid transit services. CDTA owns and operates the Rensselaer Rail and Saratoga Springs Train Stations. Today, nearly 650 people work to deliver a transit system that transports more than 55,000 customers each weekday.