February 27, 2019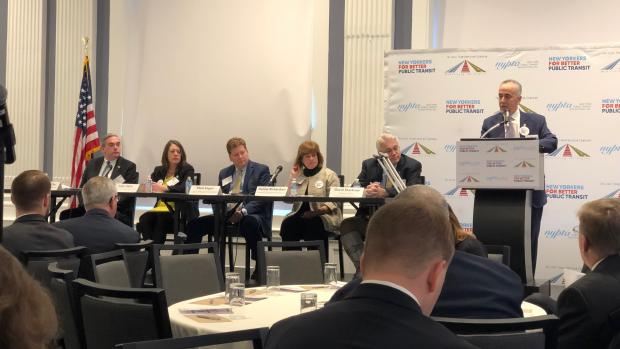 Day featured panel discussions with New York Public Transit Association members followed by advocacy at the State Capitol
ALBANY – Transportation advocates descended on the Renaissance Albany and the State Capitol to meet and discuss their advocacy priorities for the year, as well as the immediate needs for the 2019 budget as it continues to be negotiated.
The New York Public Transit Association, Tri-state Transportation Campaign and the New Yorkers For Better Public Transit coalition hosted panel discussions made up of transportation advocates and members, along with state and locally elected officials, and spoke about the need for increased and sustained funding for public transit throughout the state.
While much of the focus has been on the Metropolitan Transportation Authority and the problems it currently faces, the spotlight also needs to be on statewide transit systems to ensure that no community is left behind.
"A well-funded public transit system is essential for any community to be able to thrive," said Bill Carpenter, president of the New York Public Transit Association and chief executive officer of Regional Transit Service (RTS) in Rochester. "Investing more money into public transportation should be an easy decision for our state's leaders to make. It is incumbent upon this association and this coalition to urge our state lawmakers to make public transportation a priority when it comes to the state budget, especially because it is essential to the daily lives of millions of New Yorkers."
The New York state transit systems transport more than 9 million riders every day, making more than 3.8 billion passenger trips annually. It's not only a more economical method of travelling, as public transit users save approximately $10,000 a year instead of driving, but it's also more environmentally-friendly because it reduces the state's carbon emissions by 17 million tons per year.
This is why NYPTA and the New Yorkers for Better Public Transit coalition have asked Gov. Andrew Cuomo and legislators for a 50 percent increase in public transportation funding over the next 5 years, with a 10 percent increase for the 2019 budget. Members are also advocating for the Governor's proposed congestion tolling program for the MTA, as well as for an additional $20 million for non-MTA transit to keep the capital funding level at $104.5 million, the same that it has been for the last two years.
"With transit funding issues focused on the MTA and congestion pricing, let's not forget that the reliability of other transit systems in the state are as important to their customers as the MTA's fate is to its customers," said Denise Richardson, Executive Director of the General Contractors Association of NY. "It is long past time for a sustained solution to the state's transit funding needs. We all benefit from a robust transportation network, and we all need to share in its costs. Let's use the budget process to pass congestion pricing to secure the MTA's finances and put needed capital investments on a firm financial footing."
"Public transit supports economic development," said Mark Eagan, President and CEO of the Capital Region Chamber. "The Capital District Transportation Authority is a valuable community partner in addressing regional transportation issues to advance business and job growth. There is still a high demand for much-needed services that aren't being fulfilled."
"The transportation sector is the number one source of greenhouse gas emissions in New York," said Julie Tighe, President of the New York League of Conservation Voters. "Investing in public transit is one of the most important things we can do to fight climate change and reduce these emissions. Our public transportation systems statewide need long-term, dedicated funding streams, including congestion pricing for the MTA service region, that will improve reliability, increase mobility, reduce traffic, decrease emissions, and encourage New Yorkers to build sustainable habits. We are pleased to work with the New York Public Transit Association to advocate for better public transit, supported by sustainable revenues, for all New Yorkers."
"In New York State there are more than 130 public transit operators and more than 2.8 billion transit passengers annually," said Assembly Member William Magnarelli, chair of the Assembly Committee on Transportation. "As Chair of the Assembly Transportation Committee, I am interested in ensuring that the state's transit systems receive the support and representation required to maintain their physical integrity and the safety of the public."
"Our state's public transit systems serve New Yorkers in nearly every community, large and small, urban and rural," said David M. Stackrow, chair of the American Public Transportation Association. "They connect millions of New Yorkers to what they need, love and aspire to achieve every day.  Whether it's a job, a classroom, a health care provider, a sports event or a leisure activity, transit makes it possible for people of all walks of life."
"Investment in public transportation is critical to support long-term sustainable revitalization and economic growth in communities like Schenectady and across the state," said Gary McCarthy, City of Schenectady Mayor and President of the New York Conference of Mayors. "These investments not only protect the environment by reducing energy consumption but are key components of anti-poverty and affordable housing initiatives as they increase mobility and access for residents while providing vital links between neighborhoods."
Anyone interested in joining New Yorkers for Better Public Transit and working with us to secure more funding for all of New York's transit systems can sign up at www.ny4bettertransit.com.