January 29, 2019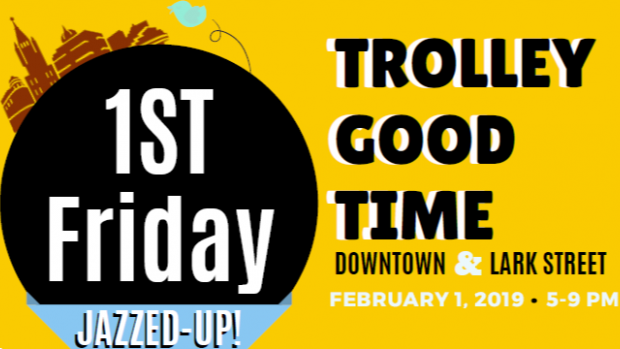 Free CDTA Capital City Trolley Connects Community to Arts and Entertainment
ALBANY, NY – CDTA's Capital City Trolley, in conjunction with February's 1st Friday event, the Downtown Albany and Lark Street Business Improvement Districts (BIDs) have joined forces to present 1st Friday: Trolley Good Time. This "jazzed-up" edition of the monthly series will be held from 5:00 PM to 9:00 PM on Friday, February 1. The popular arts celebration will expand into multiple new venues throughout the Lark Street and Downtown corridors, bringing together the best in local culture, dining, shopping, and entertainment that are now all easily accessible by riding the new, FREE Capital City Trolley.
1st Friday: Trolley Good Time will feature deals from more than 40 businesses, artwork and exhibits at a dozen different locations, 20 dining specials, and live music in five venues. 57 businesses throughout the City of Albany will offer events or special deals for this expanded 1st Friday, more than doubling the number of participants in January's edition. The collaboration is expected to continue in future months, bringing 1st Friday to new venues and utilizing the Capital City Trolley to better connect the Lark Street and Downtown neighborhoods.
Free special events slated for the evening include three pop-up art exhibitions curated by Albany Center Gallery at Loch & Quay, 3Fish Coffee, and Stacks Espresso Bar's Broadway location, gallery shows at Alacrity Frame Workshop, Albany Institute of History & Art, Center Square Barber Shop, La Luce Boutique, the National Upholstering Design Studio/Gallery, and the University Club, a screenprinting workshop at the Fort Orange General Store with Breakout Press Co., live music at First Presbyterian Church, City Beer Hall, Savoy Taproom, and Lionheart Pub, and happy hour trivia at the Pearl Street Pub.
For a full list of 1st Friday exhibits, events, and specials, visit 1stFridayAlbany.org. 
Fast, free, and safe transportation between Lark Street and Downtown will be provided by the Capital City Trolley. Introduced in November, the free Trolley operates every Thursday, Friday and Saturday from 5:00 PM to 12:30 AM, running a continuous route between destinations in the Lark Street and Downtown corridors. The trolley will be making the loop throughout the 1st Friday event, shuttling participants between dozens of participating venues, restaurants and bars. Trolley stops and real-time arrivals can be found by downloading the CityFinder app by Transfinder.   
In addition to great specials available at local businesses, attendees can also win gift certificates to Lark Street and downtown Albany businesses through the Trolley Good Time selfie contest. Participants who upload a photo of themselves riding the Trolley to Facebook, Twitter, or Instagram on February 1 with the hashtag #TrolleyGoodTime will be entered to win a $50 gift card to the Lark Street or downtown Albany business of their choice.
1st Friday: Trolley Good Time is presented through a collaboration between the Albany Parking Authority, Capital District Transportation Authority (CDTA), Discover Albany, the Downtown Albany and Lark Street BIDs, and the Albany County Sherriff's Stop DWI program.
Free public parking is available in the Riverfront and Quackenbush garages after 5 PM on weekdays and all day on weekends. Visit parkalbany.com for more information on where to park for free before the boarding the Trolley for 1st Friday.
"1st Friday is a great way to explore the many unique neighborhoods of our Capital City. There is so much to see and do," said 1st Friday coordinator Tammy Maddalla. "It's exciting to see participants and guests enjoy the many happenings our city has to offer on the first Friday of each month, and we're looking forward to introducing plenty of new choices for attendees at the 1st Friday: Trolley Good Time event."
 "Events like 1st Friday show off everything that Albany has to offer to visitors and residents alike," said Matthew Peter, executive director of the Albany Parking Authority. "We're thrilled to work with all of these community partners to provide free parking in our Riverfront and Quackenbush garages. It's never been easier to travel between these two bustling entertainment destinations. Park for free and then take the free trolley from Downtown to Lark Street and back again."
"We are excited that so many businesses joined the 1st Friday program," said Jonathan Scherzer, Director of Marketing for CDTA. "We are seeing increased ridership on the Capital City Trolley, which was designed to connect people easily, to enjoy these vibrant districts. The support of our trolley partners, the BIDs, their businesses, the Albany Parking Authority and the Sherriff highlight everyone's desire to promote the city, tourism and the arts like never before." 
 "Discover Albany is excited to continue to partner with CDTA, the Downtown Albany BID and Lark Street BID to bring new business activity to Albany as part of 1st Friday. The expansion of 1st Friday represents the next stage of our partnership on the Capital City Trolley," said Jill Delaney, President and CEO of Discover Albany. "When you add free, safe, reliable transportation to popular events like 1st Friday, you make them even more rich and accessible for the community, and this in turn, contributes to the vitality of this city. Kudos to the whole team!"
"1st Friday has been a consistently positive force for the arts community in the Capital Region, and we are thrilled to expand this longstanding event series further into Downtown and to really promote the new Capital City Trolley," said Georgette Steffens, executive director of the Downtown Albany BID. "The Trolley is a great connector between the Lark Street and Downtown neighborhoods, making it easier for residents and visitors to experience all of the culture that our Capital City has to offer."
"The Capital City Trolley is the perfect addition to First Friday," said Shauna Collins, executive director of the Lark Street BID. "Partnering with the Downtown Albany BID, CDTA, the Albany Parking Authority, and Discover Albany allows Lark Street and Downtown to better showcase the diverse and wonderful restaurants, bars, and retailers that call Albany their home."  
More information on 1st Friday: Trolley Good Time can be found at downtownalbany.org. More information on the Capital City Trolley, including the route, can be found at cdta.org.
About 1st Friday: Founded in 2006, 1st Friday aims to introduce a wider audience to the unique vitality of Albany's artists and venues. 1st Friday promotes interest in the arts by making them available to all, thereby strengthening the arts community in Albany. The monthly event has previously been focused in the Lark Street area, but with the Capital City Trolley service offering easy connectivity and better access to free parking, more Downtown destinations have been added to February's lineup. This special Trolley Good Time edition of 1st Friday will offer a sampling of Albany's wide variety of talented artists and independent businesses.