December 11, 2015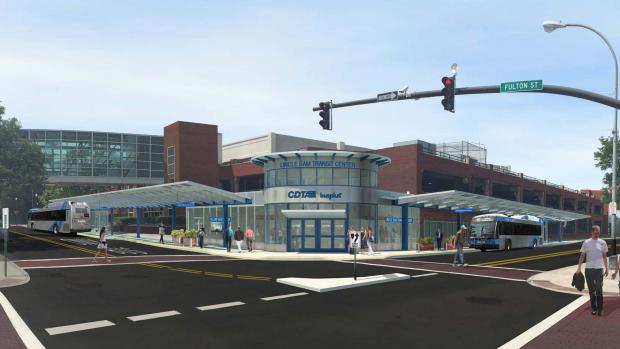 Funding Part of Governor Cuomo's 2015 Regional Economic Development Council Awards
TROY, N.Y. (December 11, 2015) – Governor Andrew Cuomo has announced that the Capital District Transportation Authority (CDTA) will receive $650,000 to construct a transit center on Fourth Street in Troy. This award is part of the $98.1 million awarded to the Capital Region under the 2015 Regional Economic Development Council awards.
"The Uncle Sam Transit Center, positioned on the corner of the Fourth Street and Fulton Street, has the chance to be a transformative project helping revitalize a central section of Downtown Troy, while enhancing the region's expanding public transit network," said CDTA Chairman of the Board, David M. Stackrow.
The new transit hub will be in a corner of the Uncle Sam Parking Garage serving nearly 4,000 customers daily with a projection of 1.2 million annual boardings featuring new customer conveniences. The project would reconfigure surrounding streets, creating bus-only lanes on Fourth, Fulton and River streets that travel in the opposite direction of car traffic. The proposed routing will improve traffic flow and make the area safer, while making the corner a center of commerce.
"The Uncle Sam Transit Center is a vital component of the revitalization of Downtown Troy," said Mayor-Elect Patrick Madden. "I want to thank the Governor, State and local officials for their continuous efforts to revitalize Upstate New York."
"This important project will not only have a positive impact on Rensselaer County but also on our region as a whole," said Rensselaer County Executive Kathy Jimino. "I congratulate CDTA for pursuing this innovative project for the Capital Region and thank the Governor for funding it."
"This project will be a major step forward for Fourth Street and the City of Troy. It fixes a lot of things and will make the CDTA experience that much better. I'm delighted to play my part in Troy's continuing resurgence," said David Bryce, Owner of Bryce Properties. "The ESD grant helps ensure that Troy residents and the whole Capital Region are better served by public transportation, and that businesses on this downtown corridor are able to succeed."