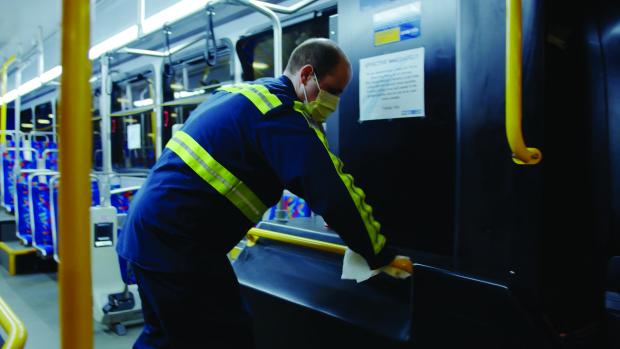 February 16, 2021
Masks, Safety Barriers, and Cleaning Protocols Highlight COVID Safety Measures
ALBANY, NY (February 17, 2021) CDTA continues to take important steps to keep its employees and customers safe during the COVID-19 pandemic.  
CDTA is installing a commercial grade air purification system that uses Photohydroionization® Cell (PHI-Cell®) technology to clean the air. The purifiers will be installed in a phased approach over the next several weeks.
We remind customers that masks are required to ride on any CDTA bus. President Biden issued a Federal mask mandate, in which non-compliance is a violation of federal law. The mandate requires any individual who can medically tolerate wearing a face covering, to cover their nose and mouth with a mask or close face-covering when riding transit and unable to maintain, or when not maintaining social distance.
Protective barriers have been installed in the operator compartment since summer of 2020 on all buses. The barriers are designed to protect operators and improve the safety and security of the entire system. This equipment is used at transit systems throughout the country.
CDTA has joined the American Public Transportation Association's (APTA) "Health and Safety Commitments Program," the public transportation industry's overarching pledge to passengers that public transit systems are taking all the necessary measures to operate safely as the nation recovers from the COVID-19 pandemic. 
Cleaning protocols for the entire bus fleet have been increased and formalized. This includes daily cleaning, disinfecting and a quarterly process using Stera-Mist. This hydrogen-peroxide based product kills bacteria and inactivates viruses on contact. CDTA is monitoring products and adjusting cleaning protocols as new information is provided and products are introduced.
CDTA offers customers contactless payment options via its Navigator mobile application that offers a variety of fare products, real time schedule information and trip planning.
Updated service information and COVID-19 response can be found at www.cdta.org and our social media channels Facebook (@ridecdta), Twitter (@cdta), Instagram (@cdta), YouTube (CDTA).