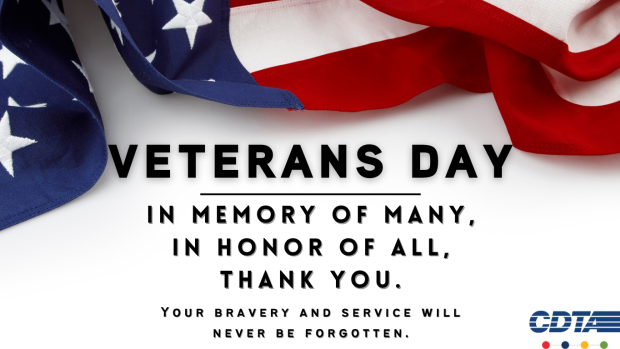 November 07, 2023
Military Veterans, Active-Duty Military, National Guard and Reserve Ride Free; Service to Operate on a Saturday/Holiday Schedule
ALBANY, NY (November 7, 2023) The Capital District Transportation Authority (CDTA) will operate on a Saturday schedule in observance of Veterans Day, Friday, November 10, 2023. The Northway Xpress (NX) and Thruway Xpress (TX) commuter services will not run. The #524 and #525 will run every 10 to 15 minutes between the hours of 6 a.m. to 9 a.m. and 3 p.m. to 6 p.m. Weekday service will resume on Monday, November 13, 2023.
The sales window at 85 Watervliet Avenue in Albany will be closed on Friday, November 10, 2023, in observance of Veterans Day and will reopen on Monday, November 13, 2023, at 9:00 a.m.
As a thank you to Capital Region military veterans, active-duty military, National Guard and Reserve for their service, all service men and women with valid military identification can ride all fixed-route service for free on Friday, November 10.
Qualified military Veterans are eligible for CDTA's Half-Fare Veterans program year-round. The program, which launched in 2017, is an initiative that allows all honorably discharged service members the opportunity to qualify for half-fare pricing on all CDTA fixed-route services. To qualify for the benefit, Veterans are required to provide a DD-214 Form, Discharge Papers, Separation Documents, Veterans Health Identification Card, Veterans Identification Card, NYS Driver's License with official Veterans marking, or a Return the Favor Card. More than 1,000 veterans have taken advantage of this benefit and additional information on the program can be found at https://www.cdta.org/half-fare
Anyone needing more information regarding Veterans Day service or other CDTA services is encouraged to contact CDTA's Customer Information Center at 518-482-8822 or visit the CDTA website at www.cdta.org. Customer service representatives are on duty 6am-7pm weekdays and 8:30am-6pm Saturday and 8:30am - 5pm Sunday and holidays.
###