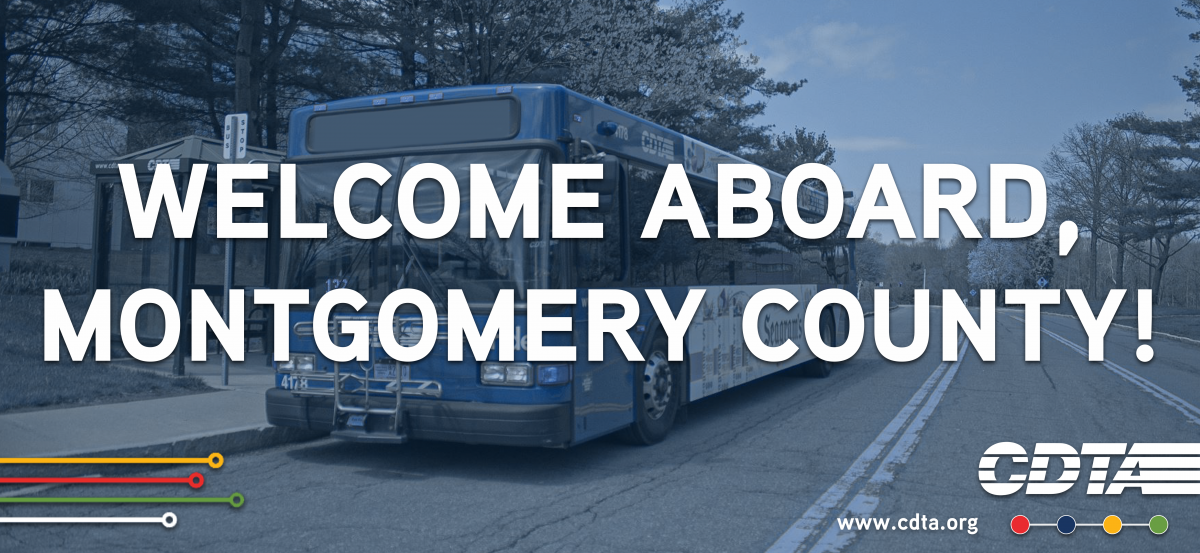 WELCOME ABOARD, MONTGOMERY COUNTY!
A new transit network is here to take you further, faster!
The Capital District Transit Authority (CDTA) connects neighborhoods, powers economic development, and improves access for those who live and work in the Capital Region. With support from our partners, we are expanding our mobility menu to offer a cohesive and flexible transportation network. The CDTA service network includes regular routes, bus rapid transit, express service, on-demand transit (FLEX), bike share (CDPHP Cycle!), electric car share (DRIVE), seasonal trolleys, park and ride, and service for people with disabilities (STAR).
We'll Meet You in Montgomery: Moving more people to more places.
Beginning August 28, 2022, CDTA will expand its service area into Montgomery County. Service will connect customers to employment centers, medical centers, and recreational activities.
Customers will have access to other CDTA services, including our BRT network, and STAR service by swiping an active Navigator smartcard or mobile ticket into the CDTA bus farebox. Customers have the option to pay cash for each trip but can see cost savings by using Navigator.
Montgomery County service will begin in Amsterdam with the following routes: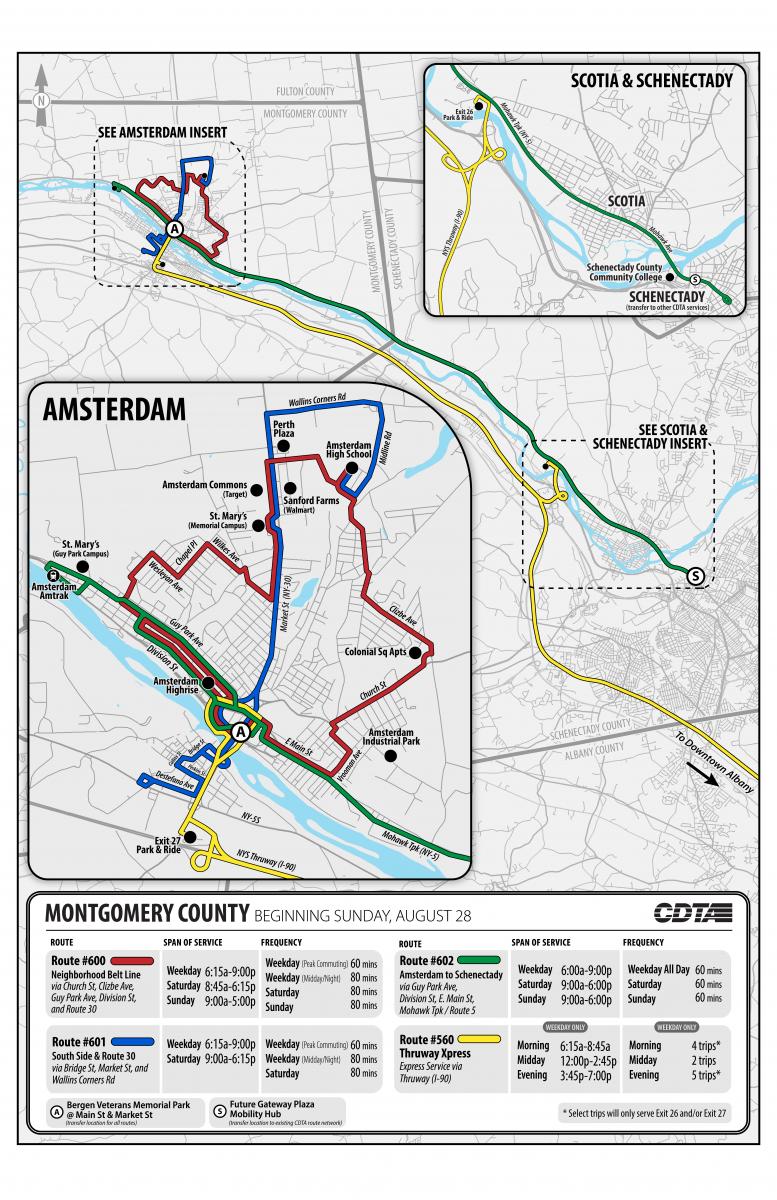 Serves Amsterdam Neighborhoods via Church Street, Clizbe Avenue, Guy Park Avenue, Division Street, and Route 30. This route will take you to St. Mary's Hospital (Memorial Campus), Amsterdam Commons, Amsterdam High School, and Colonial Square Apartments.
S. Amsterdam & Route 30 via Bridge Street, Market Street, and Wallins Corners Road. This route will take you to William Barkley, Market Street, Perth Plaza, and Amsterdam High School.
Amsterdam to Schenectady via Guy Park Avenue, Division Street, E. Main Street, Mohawk Turnpike/ Route 5. This route will take you from Amsterdam to Schenectady, with stops at St. Mary's Hospital (main campus).
Express Service via Thruway (I-90), Church Street, E. Main Street. This route will connect downtown Amsterdam with Scotia, Schenectady, and Albany via I-90.
Why CDTA is the Smart Choice:
Regional Mobility:

The region is home to one of the most innovative transit systems in the country. CDTA is excited to bring that innovation to Montgomery County.

Improved Access:

Core transit service will provide frequency every 40-50 minutes on weekdays to help you access employment and entertainment centers.

Environmentally-Friendly Service:

The development of an environmentally-friendly transit system will add green transportation options like electric buses, bikes, and cars.

Boosted Economic Growth:

Smart transit options help provide access, revitalize neighborhoods, boost commerce, and give employers access to a larger workforce.

Strengthened Communities:

Accessible transit helps to transform communities by creating vibrant commercial districts, walkable streets, and accessible jobs.
Common Questions
What is the service area for Montgomery County?
Service will begin in City of Amsterdam serving residential areas and employment centers. Service will connect downtown Amsterdam to St. Mary's Hospital, Amsterdam Commons, Perth Plaza, Amsterdam High School, and William Barkley School.
How do I know where the bus goes?
CDTA schedules will be available on all buses and at libraries, museums, government offices, banks, and shopping centers. Customers can also view schedules and real time information online at www.cdta.org or by downloading the Navigator mobile app from the Apple or Google Play Store. Our Customer Service Center is open seven days a week at (518) 482-8822 so you can speak with a customer representative.
Where can I use a Navigator card?
Navigator is CDTA's smart card and mobile ticketing fare system. Customers can use Navigator smart cards to pay for rides on all CDTA buses.
Where do I get a Navigator card?
Online: www.cdta.org.
In-Person: There are more than 50 Navigator retail outlets across the region; the Price Chopper/Market 32 at 141 Sanford Farms Plaza in the City of Amsterdam will sell Navigator fare products. More locations to follow.
By Phone: Call (518) 482-8822
What fare products (bus passes) can I add to my Navigator account?
Frequent Rider

- This pass is valid for 31 days of unlimited rides from the first day of use for $65.

Pay As You Go

- Just like having cash, each ride costs $1.30 for the first three rides, while rest are free for the remainder of that day (Never pay more than $3.90). Customers can add value by visiting retail outlets or by logging into their Navigator account. Minimum online Pay as You Go purchase value is $10.
Riding With CDTA
Tips For New Transit Customers
Planning –

Make sure you know the route number and schedule of your bus.

Leave plenty of time –

arrive at your stop at least 5 minutes before your scheduled departure.

Stand in the correct location

– make sure that you are on the correct side of the street and stand up as the bus approaches to signal the driver that you are ready to board.
Safety and Sanitary Protocols
All CDTA buses are equipped with a commercial grade air purification system that uses Photohydroionization® Cell (PHI-Cell®) technology. This technology results in high quality disinfectant for customers and CDTA employees.
Real-time occupancy data is available on all fixed-route buses. Customers can check arrival times and view the vehicle capacity before boarding, with color-coded indicators - not crowded (blue), some crowding (yellow), or crowded (red).
CDTA follows federal mandates, requiring masks to be worn on all vehicles to keep customers, operators, and the public safe from the COVID-19 pandemic.
Our Code of Conduct is in place to address everyday safety issues. In an emergency, our operators can summon police and medical assistance. Emergency-exit instructions are displayed inside all CDTA buses. If you have a concern or see suspicious activity, please tell the bus operator immediately or call the Customer Service Center at (518) 482-8822.
Bikeable Bus
You can board your bike on all CDTA buses. Easy-to-use bike racks on the front of CDTA buses offers a fun way to get around. Visit CDTA.org to learn more about bikeable buses.
Riding Rules for Customers
To ensure the safety and comfort of all riders, we ask that you observe the following rules and guidelines:
NO SMOKING on CDTA buses. It's a New York State Law.
NO EATING or DRINKING on CDTA buses, and please do not litter.
NO PLAYING RADIOS or other audio equipment while on CDTA buses. Please use headphones at low volume.
NO FIREARMS on any CDTA bus.
NO ANIMALS on CDTA buses unless in a carrier that can fit on your lap or feet. Service animals, such as seeing-eye dogs, are permitted.
NO VANDALISM or damage to buses or shelters will be tolerated. CDTA will prosecute.
NO GAMBLING on any CDTA bus.