January 13, 2021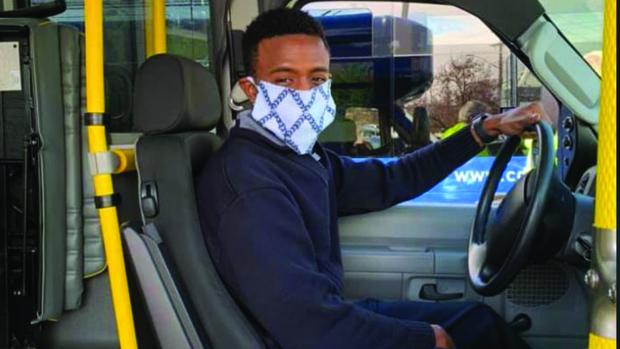 Through a Tough Year, CDTA Kept Major Projects Moving Foward to Enhance Mobility Options for the Region
ALBANY, NY (January 1, 2021) The Capital District Transportation Authority continued to connect people to economic opportunity throughout a challenging 2020. CDTA looks forward with a sense of accomplishment and pride in the work it does to make the Capital Region move. The following is a look at some of CDTA's accomplishments over the past year.
COVID RESPONSE – The COVID-19 pandemic changed the way we deliver service, treat employees, and care for customers. Our essential employees provided quality service while we implemented new cleaning protocols on buses and in our facilities. That, in addition to the installation of barriers to protect bus operators, helped improve safety and security for customers by limiting contact and providing social distance.
BLUE, BUS RAPID TRANSIT – CDTA's Blue Line, our second Bus Rapid Transit (BRT) service, launched in November 2020. The "Blue Line" connects communities along the Hudson River with limited stop service that offers free Wi-Fi and other amenities. We made significant infrastructure improvements along the corridor including new stations, miles of new sidewalks with heated sections, crosswalks and upgraded signal systems.
IT'S ALL STRATEGIC – Our Board of Directors drove the development of a Strategic Plan that articulates a clear vision and provides an updated mission statement. The plan offers an innovative foundation that will push the limits of how we move people throughout the region, while maintaining our position as an industry leader.  
CHARGED UP – CDTA became the first transit system in upstate New York to introduce electric buses. The buses have been operating for several months while charging infrastructure has been installed; we are monitoring key factors including range, charging timeline, electricity usage and performance on various routes.
CDPHP CYCLE! PEDALS AHEAD – CDPHP Cycle! finished its fourth season with outstanding ridership following a delayed start to ensure proper safety and sanitary measures were taken. Expansion of Cycle! Access with area colleges and businesses, including the University at Albany, Tru by Hilton Albany Airport hotel, and The Desmond helped to grow ridership while we teamed with the New York State Canal Corporation on the "Pedal Paddle" to support tourism.
FLEX-ING SERVICE – Our FLEX On Demand pilot hit the streets offering flexible routing that uses real-time matching of demand and supply. FLEX provides customers a mobile application to request rides, delivered in a CDTA-operated vehicle for curbside pickups and drop offs. We piloted in Colonie, Guilderland and Latham and will introduce a second phase in Southern Saratoga County as we bring a mix of mobility services to the region.
GOOD HEALTH STARTS AT HOME - We cut the ribbon on the CDTA Health Center, powered by CDPHP, earlier this year to provide employees with a convenient way keep up on their health and wellness. The Center offers employment-based physicals and screenings, treatment for minor illness, health counseling, flu shots, and is a free service for all CDTA employees.
BOARD LEADERSHIP – Jayme Lahut led the CDTA Board of Directors with a progressive vision that resulted in innovative projects like the BRT Blue Line, FLEX On Demand and development of our Strategic Plan. Lahut, who joined the Board in 2017 is Executive Director of the Schenectady Metroplex Development Authority.
COMMUNITY MATTERS – CDTA services make it possible for children, seniors, and others to be active in their community. While the schedule of events was lighter this year, we once again were part of the Nation's #1 Real Mean Wear Pink campaign, honored the 50th Anniversary of Earth Day and took part in the Goodbye to 2020 Parade that supported local charities.
GOLDEN ANNIVERSARY – On August 1, 1970, CDTA was created by an act of the New York State Legislature. The Authority's mission was to create a regional transportation system that operates throughout four counties with the ability to expand to neighboring communities. Our year-long celebration featured employees, customers, partners, and stakeholders. Visit us online to see more: https://www.cdta.org/cdta50
COMMUNITY CHAMPIONS – A component of our 50th Anniversary celebration was our Community Champions initiative. Nominations acknowledged individuals that go above and beyond in their communities. In total, 50 people received awards and recognition.  Visit us online to see more: https://www.cdta.org/cdta50
OUR MISSION – As part of our new Strategic Plan, the mission of the company has been defined as an innovative mobility organization that connects our communities, our people, and our economy. The mission statement is a constant reminder of who we are, what we do and why we are successful:
CDTA provides mobility solutions that connect the region's communities