February 25, 2015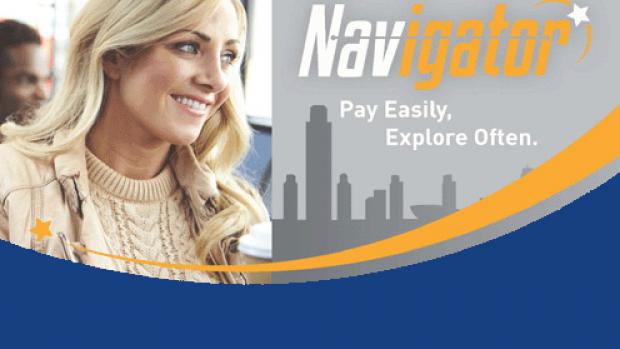 ALBANY, N.Y. (January 28, 2015) The Capital District Transportation Authority (CDTA) today unveiled the design and branding of its new payment system, called Navigator.
CDTA debuted Navigator at its inaugural "State of CDTA," which took place at The Desmond Hotel. The new fare system will allow customers to efficiently travel across CDTA's route network that spans four counties and more than 2,300 square miles. CDTA is the first in the nation to simultaneously introduce both a smartcard and mobile ticketing application.
Navigator is one component of the New Fare Collection System (NFCS) that will help customers travel to their destinations with infinite possibilities and new experiences. The new branding, announced in conjunction with the new smartcard and mobile ticketing platform, gives CDTA customers new payment options and more flexibility. Customers will be able to register for added security, balance protection and take part in a new loyalty program.
"This is CDTA innovation on full display," said David M. Stackrow, CDTA's Chairman of the Board. "Navigator acknowledges the Capital Region's history of travel. The word evokes a sense of exploration while implying a pioneering spirit that symbolizes what our customers have in this new payment system."
Last year the CDTA Board approved a comprehensive public outreach strategy and the NFCS fare structure. The system offers riders the opportunity to use smart cards and mobile payment technology with the option to continue paying cash. There will be no fare increase as a result of the new prepayment system rollout.
"This is what customers have been waiting for," said Carm Basile CDTA's Chief Executive Officer. "Not only are we answering the call for a more efficient way to pay, but we are putting the power of riding in their hands. Navigator will allow any customer to determine the most cost effective way to pay, based on their individual riding habits."
Basile added, "This is just another way that CDTA keeps our communities moving. We are always looking for new ways to grow ridership and revenue, and build on our solid foundation. This need to keep innovating the industry has transformed the Authority into the recognized leader in mobility options throughout the Capital Region."
CDTA's Navigator incorporates a silver, blue and gold color combination that highlights the history of the iconic CDTA brand incorporating its signature service BusPlus while introducing a new, bold direction.
The branding was developed in tandem with Jones Worley, a transit specific agency that has worked on smart card rollouts in Atlanta, St, Louis, Pittsburgh and Houston and Overit Media in Albany.
CDTA's Navigator is expected to begin public pilot testing later this year and will be fully deployed once testing is complete.
ABOUT CDTA: The Capital District Transportation Authority (CDTA) was created in 1970 by the New York State Legislature as a public benefit corporation to provide regional transportation services by rail, bus, water and air. CDTA is the premier mobility provider in the Capital Region, providing local, express, commuter and bus rapid transit services. CDTA owns and operates the Rensselaer Rail and Saratoga Springs Train Stations. Today, nearly 650 people work to deliver a transit system that transports nearly 60,000 customers each weekday.
YouTube Videos