March 20, 2020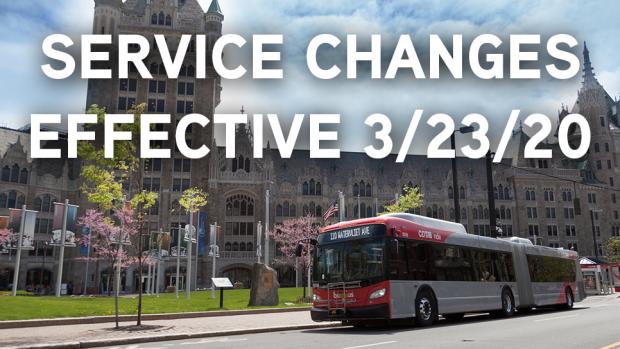 Service to Operate on Modified Weekday Schedule Until Further Notice
 

ALBANY, NY (March 20, 2020) CDTA will operate on a modified weekday schedule beginning on Monday, March 23. The modified schedule will resemble CDTA's Saturday service. This schedule will be in place for all regular route services. STAR (paratransit), which is a critical transportation option for people getting to medical and other urgent appointments, will continue to operate on a full weekday schedule. Northway Xpress will operate a weekday schedule. Service levels are being evaluated on a continuous basis and may be modified further as appropriate. 
In addition to routes that normally operate on Saturday, the modified schedule will add several routes that do not normally operate on Saturday but are important to our service delivery system. These are routes that serve medical facilities, grocery stores or other locations to which essential trips need to be made. 
"CDTA is an essential public service and we know that people are counting on us to be there for them during this unprecedented time," said CDTA CEO Carm Basile. "We also know that emotions are running high, and there are lots of questions and concern. We want to assure employees and customers that we take our responsibility very seriously and are making determinations about service based on fact and guidance from New York State."
Governor Andrew M. Cuomo has ordered that only essential trips be made on mass transportation services. Transit is an essential service that will continue to operate to get health care workers and other essential employees to work and where they need to go. The Governor's message is very clear, do not take public transportation unless urgent and absolutely necessary.
The updated service schedule, which is attached, can be found on our website at www.cdta.org. Customers with questions should call our customer service center at 518-482-8822. They can also stay up to date with service changes through our social media sites, Facebook (@ridecdta) and Twitter (@ridecdta)
The Sales Window at 85 Watervliet Avenue, Albany will be open Monday-Friday from 11am-3pm until further notice. The lobby area of CDTA at 110 Watervliet Avenue, Albany will be open from 9am-3pm until further notice.
The CDTA Rennselaer Rail Station and Saratoga Springs Train Station are open. Customers should check their travel plans before heading to either station to make sure their trip is still running. At the RRS, Grind and Brew cafe is temporarily closed in accordance with Governor Cuomo's executive orders.
CDTA is following guidance from the New York State Department of Health and the Centers for Disease Control on how to keep employees and customers safe during this time of concern. 
In addition to service changes, CDTA has modified bus and facility cleaning processes. On our buses, we are using a deep cleaning liquid that contains a hospital-grade sanitizing agent. Bus operators have access to disposable gloves and sanitizing wipes to do an additional wipe down of their work areas. We also have cleaners in the field doing wipe-downs of buses at layover areas, multiple times throughout the day. If anyone has concerns or observes any vehicle that needs attention, please report that immediately to CDTA.
MARCH 23, 2020 SERVICE CHANGES
| ROUTE | DESCRIPTION | WEEKDAY | REDUCED SCHEDULE | SATURDAY | NO SERVICE | ALTERNATIVE |
| --- | --- | --- | --- | --- | --- | --- |
| 1 | Central Ave |   |   | X |   |   |
| 6 | Second Ave / Whitehall Rd |   |   | X |   |   |
| 7 | Glenmont |   |   | X |   |   |
| 10 | Western Ave |   |   | X |   |   |
| 11 | UAlbany Shuttle |   | X |   |   |   |
| 12 | Washington Ave |   |   | X |   |   |
| 13 | New Scotland Ave |   |   | X | Service will begin at 5:40am |   |   |
| 18 | Delaware Ave |   |   | X |   |   |
| 22 | Albany-Troy via Watervliet |   |   | X |   |   |
| 80 | Fifth Avenue |   |   | X |   |   |
| 85 | Troy/Waterford |   |   | X |   |   |
| 87 | Sycaway/Beman Park |   |   | X | Service will operate until 11:30pm |   |   |
| 100 | Mid-City Belt |   |   | X | Service will begin at 5:30am |   |   |
| 114 | Madison Ave/Washington Ave |   |   | X |   |   |
| 117 | Guilderland/Colonie Crosstown |   |   | X |   |   |
| 125 | Clinton Ave/Sand Creek Rd |   |   | X |   |   |
| 138 | Allen St/Livingston Ave |   |   | X |   |   |
| 155 | Suburban Circulator |   |   | X |   | Flex |
| 182 | Troy/Albany via Cohoes/Latham |   |   | X | Service will begin at 6:00am and operate until midnight |   |   |
| 190 | Fuller Rd/Wolf Rd |   |   | X |   |   |
| 214 | Rensselaer Third St /Amtrak |   |   | X |   |   |
| 224 | Albany/HVCC/Troy via Route 4 | X |   |   |   |   |
| 233 | Albany/Schodack | X |   |   |   |   |
| 286 | Troy/Wynantskill via RPI Campus |   |   | X |   |   |
| 289 | Griswold Heights |   |   | X |   |   |
| 351 | Van Vranken Ave/Broadway |   |   | X |   |   |
| 352 | McClellan St/Altamont Ave | X |   |   |   |   |
| 353 | Scotia/Mont Pleasant |   |   | X |   |   |
| 354 | VIA | Port Rotterdam/Nott St |   |   | X | Service will begin at 6:00am |   |   |
| 355 | Schenectady/Colonie |   |   | X |   |   |
| 370 | Troy/Schenectady |   |   | X |   |   |
| 450 | Schenectady/Wilton Mall vis Rte 50 |   |   | X |   |   |
| 451 | Ballston Spa/W Saratoga |   |   | X |   |   |
| 452 | Skidmore/Wilton/D'Town Saratoga |   |   | X |   |   |
| 520 | Albany/Nassau Express |   |   |   | X | #233 |
| 522 | Hudson River Express |   |   |   | X | #22 |
| 530 | VIA | Port Rotterdam Express |   |   |   | X | Park & Ride's on #905 |
| 531 | St. Luke's/Woodlawn Park & Ride Express | X |   |   |   |   |
| 540 (NX) | Northway Express | X |   |   |   |   |
| 712 | Harriman Campus/Patroon Creek | X |   |   |   |   |
| 716 | Mt. Hope/Albany South End |   |   |   | X | #6,#7,#100 |
| 719 | Altamont/Voorheesville |   |   |   | X |   |
| 734 | Hackett Blvd/Buckingham Pond |   |   |   | X | #6,#13 |
| 737 | Corporate Woods/Airport | X |   |   |   |   |
| 763 | Albany/Schenectady via Route 20 | X |   |   |   |   |
| 905 | BusPlus Red Line |   |   | X |   |   |
| Flex |   | X |   | X |   |   |